News
News & Updates
Franklin Parish Sheriff's Office Conducts Church Concealed Carry Class
Posted on December 19, 2017 at 3:03 PM
The Franklin Parish Sheriff's Office hosted the first Church Concealed Carry Course last week on Tuesday, December 12, 2017, and Thursday, December 14, 2017. Near forty people who are members of churches throughout the parish received eight hours of training, as required by Louisiana State Statute.
Sheriff Cobb says this will be the first of many classes we hope to offer to extend training to those who are interested. We plan on offering a second training in January to those who were unable to attend the first training.
Special thanks goes to Kayla Blossom, Rex Barker, Joey Cordill, Joe Doughty, Brandon Loman, Phillip Mulkey, David Rigdon, Todd Roberts and Peyton Sparks who assisted in organizing and instructing the course.
If you attend a church in Franklin Parish and are interested in signing up for our next class (dates to be determined), please contact David Rigdon or Kayla Blossom at (318)435-4505. If your church is interested in a local church meeting on various aspects of Church Security, you can also contact David or Kayla and they will discuss options with you.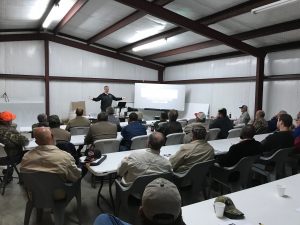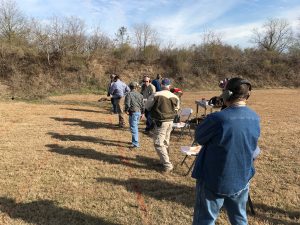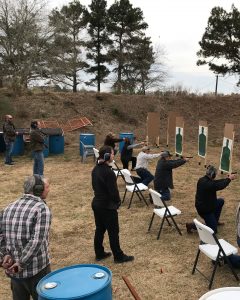 Franklin Parish Sheriff's Office Arrest Two in Armed Bank Robbery
Posted on December 19, 2017 at 3:01 PM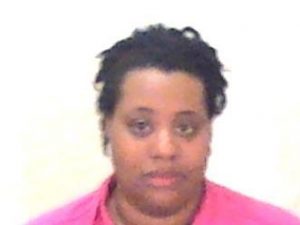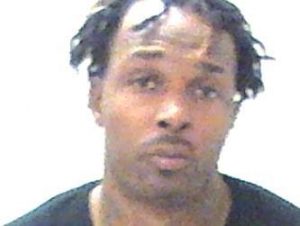 Sheriff Kevin Cobb would like to report that David Johnson, DOB 08/30/1982, 53 Branch Crossing, Rayville, Louisiana, and LaKendria Goings, DOB 04/28/1984, 1008 South Fourth Street, Monroe, Louisiana, have been arrested in connection to the armed bank robbery earlier today, December 18, 2017. Johnson and Goings, pictured above, are charged with Armed Robbery, Possession of Controlled Dangerous Substance with Intent to Distribute (Marijuana), Aggravated Flight From an Officer, Attempted Murder of a Peace Officer and Possession of a Firearm by a Convicted Felon. They are currently being held in the Franklin Parish Detention Center.
Original Post — December 18, 2017 at 12:18PM
Sheriff Kevin Cobb would like to report that at approximately 9:44am the Franklin Parish Sheriff's Office received a 911 call that an armed bank robbery had occurred at Winnsboro State Bank, Gilbert Branch, Gilbert, LA. The individuals fled the scene with an undetermined amount of cash. Deputies began pursuit in Gilbert, LA, northbound. During the pursuit, the individuals fired multiple times at deputies. The Sheriff's Office took action to stop the vehicle. The vehicle was ultimately stopped on Fourth Street in the Town of Winnsboro. At this time the Sheriff's Office took two individuals into custody in possession of an AR15 Rifle, a Handgun and an undetermined amount of cash. The investigation is ongoing and additional information will be released as it comes available. We are thankful that the bank staff, customers, those traveling Highway15 and deputies involved were not injured in any way.
Franklin Parish Sheriff's Office Narcotics Investigation Yields Twenty-Five Arrest Warrants
Posted on January 26, 2015 at 2:17 PM
Franklin Parish Sheriff Kevin Cobb issued 25 arrest warrants early Monday morning. These warrants are the result of a multi-month investigation by his department into narcotic trafficking.
Within a few hours, FPSO had sixteen individuals in custody and suspect others to be booked in by the end of the week. Those booked are:
1 Terry Davis, 156 Hickory Circle, Apt. 109, Wisner, LA 71378, Distribution of Cocaine
2 Dewayne Pleasant, 608 Eighth Street, Winnsboro, LA 71295, Distribution of Cocaine
3 Authur Anderson, 2306 Roland Street, Winnsboro, LA 71295, Distribution of Cocaine
4 Louis Armstrong, 330 Mock Street, Winnsboro, LA 71295, Two Counts Distribution of Marijuana
5 Junius Wright, 2902 Baldwin Drive, Winnsboro, LA 71295, Two Counts Distribution of Marijuana / Theft Under $500.00
6 Alfred Coleman, 1515 Polk Street, Winnsboro, LA 71295, Distribution of Hydrocodone
7 Terra Wilhite, 557 Highway 13, Winnsboro, LA 71295, Distribution of Marijuana
8 Wayne Shephard, 1630 Highway 15, Lot 3, Winnsboro, LA 71295 Distribution of Hydrocodone
9 Jasmine, Randoph, 147 Wood Street, Winnsboro, LA 71295, Distribution of Marijuana
10 Derenta McMahon, 705 Carver Street, Winnsboro, LA 71295, Conspiracy to Distribute CDS
11 Lawanda Walker, 210 Louisiana Street, Winnsboro, LA 71295, Distribution of Methamphetamine
12 Robert Wright, 3001 Earle Drive, Winnsboro, LA 71295, Distribution of Schedule IV CDS
13 Antonio Williams, 605 Third Street, Winnsboro, LA 71295 Conspiracy to Distribute a Schedule IV CDS
14 Millie Ignont, 605 3rd Street, Winnsboro, LA 71295, Distribution of Schedule IV CDS
15 Elizabeth Straughter, 835 Rogers Street, Winnsboro, LA 71295, Conspiracy to Distribute a Schedule IV CDS
16 Kimberly Duplichan, 470 Loflin Road, Winnsboro, LA 71295, Distribution of Methamphetamine, Distribution of Xanax and Distribution of Schedule II CDS
"This investigation is part of the ongoing efforts to disrupt narcotic activity in the parish," stated Cobb. Like many of our past investigations resulting in numerous arrests, the charges range from conspiracy, to distribution of methamphetamine, cocaine, marijuana, legend drugs, hydrocodone, crack cocaine and xanax. This resulted in those drugs being recovered through the operation.
Sheriff Cobb states, "this is one of many narcotics operations planned that will continue in our parish."
FPSO Deputies Graduate from POST Academy
Posted on January 26, 2015 at 2:13 PM
Five deputies with the Franklin Parish Sheriff's office recently completed training to become POST certified law enforcement officers.
The officers completed training in two separate academies with the North Delta Regional Training Academy in Monroe, and graduated during commencement exercises held at the Monroe Civic Center on Nov. 20.
Completing the course and passing necessary POST exams for Basic Academy 121 were Dewanna Ward and Glenda Brown, of the court and administration divisions; Sonya Smith and Dana Lee, medical department. Bill Hendrix was a member of Basic Academy 123.
Hendrix subsequently enrolled in DARE Officer Training in Georgia, and expects to begin teaching the DARE program in the parish during the spring semester. He will fill the position previously held by Deputy Marcy Thompson who served as DARE officer for nine years and recently retired from the Sheriff's Office. The POST training involved intense study along with physical preparation and firearms training.
In addition to fulfilling qualification requirements, Ward, Smith and Lee each earned first, second and third place honors, respectively, in Firearms. Hendrix claimed third place honors in Defensive Driving. Cobb said putting the officers through the POST training was a part of his office's ongoing efforts to train all Sheriff's Office employees.
The sheriff noted that the recent graduates devoted their time and energy to successfully completing the program, including nights and weekends.
"I'm very proud of them," he said.
He added that the personal sacrifice was particularly noteworthy in the case of the women who attended the nine-month night academy.
"It involves giving up nights and weekends, along with working full-time schedules. It takes time away from their families and any personal time they have," he said.
The sheriff said that the recent graduates bring the total number of POST certified officers on duty with his department to 76 out of a total of 97 employees. The numbers include deputies who work patrol as well as those with the Franklin Parish Detention Center. More are scheduled to take part in the training in the spring, he said.
June, 2014, marked the 39th anniversary of the Louisiana Peace Officer Standards and Training Council (POST). POST was established by Act 397 of 1976, as amended, to develop training standards for peace officers in Louisiana.
Peace officers are any full-time employees of the state, a municipality, a sheriff or other public agency, whose permanent duties actually include the making of arrests, the performing of searches and seizures or the execution of criminal warrants, and who are responsible for the prevention or detection of crime or for the enforcement of the penal, traffic or highway laws of this state.
Peace officers also includes those sheriff's deputies whose duties include the care, custody and control of inmates.
Sheriff's Office to Offer Online Lookup and Payment of Property Taxes
Posted on October 31, 2014 at 4:54 PM
Effective the 2014 Property Tax Year the Franklin Parish Sheriff's Office will be offering the ability for our customers to lookup property tax information online and make payments online. There is a processing fee if you choose to make a payment online. If you pay via credit card, the fee is 3.45% of the total transaction. If you pay by debit card the fee is a fixed fee of $3.95.
To view the property tax information page click here.
TRIAD: Sheriff's Office Annual Fish Fry Honors Seniors
Posted on October 31, 2014 at 4:48 PM
The Annual TRIAD Fish Fry sponsored by the Franklin Parish Sheriff's Office on Friday, October 10, 2014, was attended by over 400 senior citizens from throughout the parish. The event honors local seniors for their contributions to their community and country and provides an opportunity for them to gain information on crime prevention as well as services offered in the community which target their specific needs.
This years event was held at Winnsboro United Pentecostal Church.
Sheriff Cobb recognized 26 seniors who had celebrated their 90th birthday and beyond, three who have reached their 100th birthday. The 100-year-olds include Beatrice Netherland and Booker T. Burkhalter, both of whom remain active and are living in their own homes, and Mary Spence, who resides at Charlyn Rehabilitation and Nursing Center. The honored seniors who are in their 90s included Pauline Stitt, James Tate, Margarette Kincaid, Roosevelt Bowie, Estella Gardenhi, Ed Lee Jr., Owen White, Coran Elzy, James Gray, Lillie Cotton, Bud Thomas, Margarette Murphy, Irene Ives, Ida Thomas, Sarah Erskin, Ella Cummins, Pauline McCurley, Bertha Jones, Irene Bible, Robert Fulford, John Allen, Geneva Foy, Dallas Batey, Harold Robinson, Minnie McNease and Almeda Caston.
If you would like more information about our TRIAD program please contact the TRIAD office at (318)435-6801.
Sheriff Cautions Highway Safety As School Year Begins
Posted on August 12, 2014 at 1:17 PM
As back to school time approaches, it can be very busy for all. Sheriff Kevin Cobb would like to remind everyone that exercise safety and caution as school buses and additional vehicles return to the road. "The start of a new school year is chaotic for everyone. We need to remain aware when traveling through school zones and around buses. If we don't the outcome could be tragic," said Sheriff Cobb. "We suggest that all motorist first focus on safety and obeying traffic laws when driving, especially in school zones."
For those traveling to school, planning ahead for your commute will save you time, lower frustration levels, increase your level of alertness and improve safety for you and your loved ones. Always allow enough time to travel, so as to not endanger yourself and others. Other tips for the start of the school year are:
• Stop for flashing red lights of school bus while it is loading and unloading.
• Continue your trip only once the school bus flashing lights have stopped flashing.
• Be observant of school speed zones.
• Be observant of pedestrians walking at or near schools.
• Always obey the posted speed limit.
• Keep eyes on children who may be standing roadside waiting for school buses as they may dart across the street suddenly to catch a bus.
• Look both ways entering or exiting a bus for oncoming traffic, or wait for the driver to signal that it's safe to cross the street.
• Beware of other drivers who may be distracted.
• Put down electronic devices while driving.
• While riding the bus, stay quiet as to not distract the driver.
For additional information, contact Sheriff Kevin Cobb at kevincobb@franklinsheriff.net or (318)435-4505.
Drug Operation Nets 19 Arrests in Franklin Parish
Posted on May 27, 2014 at 3:38 PM
A three-month undercover investigation into the possession and distribution of illegal drugs in Franklin Parish culminated in 19 arrests Tuesday.
The investigation, dubbed "Operation May Day," brought substantial evidence against 25 individuals suspected of illicit drug activity and warrants for their arrests were signed by local district judges, according to the Franklin Parish Sheriff's Office.
"Within hours of starting the roundup Tuesday, we had 19 in custody for various charges, ranging from marijuana to methamphetamine," Franklin Parish Sheriff Kevin Cobb said. "Those charged were arrested and booked into the parish jail without incident."
Only six of the 25 warrants issued remain outstanding.
Cobb said that the suspects at large, including some who may no longer be in Franklin Parish, are being actively sought by narcotic investigators.
"We are attempting to make contact with those individuals and will hopefully bring this investigation to a close shortly," Cobb said. "The development of narcotic cases is a process that requires skill, time and patience. I have a great staff in the narcotics division who will continue to work tirelessly in an effort to combat and disrupt street-level distribution cases in our area," Cobb continued. "It is our number one priority to make Franklin Parish a safer place to live, but ultimately, we still have more work to do."
In addition to the 19 arrests made Tuesday, four suspects already incarcerated were implicated.
Parish Wide DARE Graduations
Posted on May 12, 2014 at 9:20 AM
Graduation ceremonies are underway marking the completion of the Drug Abuse Resistance Education (DARE) program in fifth grade classes throughout the parish.
The Franklin Parish Sheriff's Office administers the program locally in cooperation with the Franklin Parish School Board. Funding is provided by the Sheriff's Office and grant monies from the Louisiana Commission on Law Enforcement.
Classes are presented by Deputy Marcy Thompson, DARE officer.
The DARE program, which began in 1983 in Los Angeles, California, and has grown to include law enforcement agencies throughout the world, focuses on teaching skills which helps students resist peer pressure and live productive drug and violence free lives.
The new DARE curriculum, Keepin' it REAL (an acronym for Refuse, Explain, Avoid and Leave), provides lessons in which the Dare Officer functions as a facilitator to present information and guide interactive discussion on the dangers of alcohol and tobacco use, bullying, decision making, resistance strategies and how to handle stress.
During graduation ceremonies, students wear t-shirts which are provided by the Sheriff's Office and the DARE program and receive certificates marking the completion of their studies. They also write essays expressing what the DARE program means to them, with prizes awarded at the school and parish level.
Franklin Parish Schools participating in the DARE program include Winnsboro Elementary, Fort Necessity, Gilbert, Baskin, Crowville, Family Community Christian School and Franklin Academy. Nearly 300 students took part in the program during the current school year.
"This program is part of our ongoing effort to promote drug resistance among our youth" says Sheriff Cobb. "This is an ongoing battle that must never be taken lightly."
Man robs wife, store at gunpoint
Posted on March 5, 2014 at 3:55 PM
A Texas man is jailed in Franklin Parish after firing a handgun in the AT&T store in Winnsboro where his estranged wife is employed.
According to Franklin Parish Sheriff Kevin Cobb, dispatchers received a 911 call at around 6:30 p.m. on Saturday reporting an armed robbery in progress in the 3200 block of Front St.
A nearby sheriff's office deputy responded to the location and identified a man, 50-year-old Scottie Dean Fields, of Carthage, Texas, who was attempting to leave the robbery scene.
Law enforcement was told that an additional suspect was inside the store, which was subsequently cleared.
According to an arrest affidavit, Fields said that he and his wife, who worked at the store, were acting together in the robbery attempt. Further investigation revealed that the couple was in the process of getting a divorce and the female employee had no involvement in the crime, the report says.
Fields fired a handgun inside the store and walked away with over $5,000, the sheriff said.
As the suspect was leaving the scene, a deputy apprehended him without incident. The handgun and money were recovered in the parking lot by officers. No one was injured.
"The officers did a great job in handling what could have been a very bad situation," Cobb said. "They responded to the incident quickly and also defused the situation in the appropriate manner. Their quick thinking and reaction to the threat of an armed man more than likely stopped the situation from escalating."
On Monday, Texas authorities contacted the Franklin Parish Sheriff's Office and said that Fields is facing charges of motor vehicle theft and taking nearly $700 from a company in Carthage.
Fields was booked into the Franklin Parish Detention Center on charges of armed robbery, possession of a firearm by a convicted felon, aggravated assault with a firearm and illegal use of a weapon. Bond has not been set.